I'm André Alves (queer, he,him; dl-adhd). I was born in Lever, Portugal (1981) and currently live in Bullaren, Sweden.
I am a visual artist, educator and a writer. For the past two decades my artistic work focused the potential of language-based approaches (reading, writing, speaking) within the visual arts, deployments of drawings and installation in the expanded sense, with a thematic emphasis in the role of affect, listening and inclusive perspectives within image-making, and in the politics of invisibility of neurodiversity, and, consequently, the decrease of neuroplasticity.
I hold a degree in Fine Arts (2005) and a Master in Visual Arts Education (2009) from the University of Porto, a Master in Fine Arts (2011) from the University of Cincinnati, studies carried under a Fulbright/Fundação Carmona e Costa fellowship, and a PhD degree in Philosophy in Fine Art in Artistic Practice from the University of Gothenburg (2021) with the research "A Never-Ending Thirst: Artistic Reforms to Neoliberal-Teflon Imperviousness," around the possibilities of artistic processes as politics of care.
I have co-created projects that seek to activate the public space and the public debate, namely the projects A2: Aproximações e Proximidade (2013-2014), co-developed with curator Juan Luis Toboso, and O Que Falta É Amor (2017) and Estação Encontro (2019), co-developed with artists Filipa Araújo and Max Fernandes.
Previous project have been presented in individual and collective venues such as Momentum 10 — The Nordic Biennial (NO; 2019), Flatland (EUA; 2019), Centre del Carme Cultura Contemporánea de Valencia (ES; 2018), Museu Nacional de Arte Contemporânea do Chiado (PT; 2018), Research Pavilion — Venice Biennale (IT; 2017), Sala de Arte Joven de Madrid (ES; 2016), NRW — Forum Dusseldorf (DE; 2016), 9th Taipei Biennial (CN; 2014).
I have authored the books "Barbed Wire/dynamite: the power of freedom of movement," edited by Documenta (2016) and "Non-Aristotelian saying of the day," published by Edições do Tédio (2015); edited "Pretentious Writings" (2015), and since 2015 have co-edited the volume "Artistic Conversation Does,"published by i2ads — School of Fine Arts, University Porto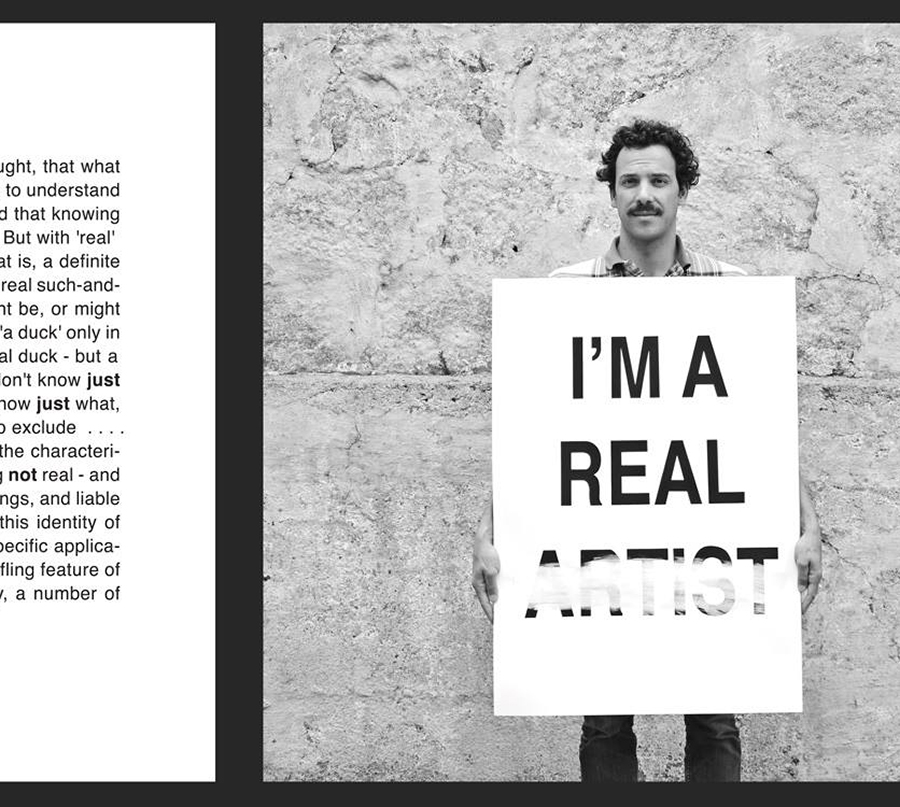 I'm a Real Artist (after Keith Arnath "Trouser - Word Piece 1972" (printed 1989)) ©AA 2015